Description
JINGHMA R8
As one of the sales champions of Jinghma electric bike, the R8 folding fat e-bike features a simple and practical design and reliable performance. With the foldable frame, handlebar stem and pedal, Jinghma R8 can be conveniently folded in order to store and transport the bike more easily. Equipped with comfortable and compact 20″ x 4″ tires, Jinghma R8 will accompany you everywhere regardless of the season, terrain or the steepness of the slopes.
350W High-Speed Powerful Motor
R8 equipped with a 48V350W powerful hub brushless motor, which is waterproof, dustproof and noise reduction. With the large torque, it let you ride at high speed effortlessly in any condition. The powerful motor simply boosts your driving experience to peak joy. R8 can reach 30° gradeability under common road conditions.
USB cell phone holder
The e-bike comes with a mobile phone bracket. You can put your phone for GPS and music whenever you ride.
Long-Lasting Battery Life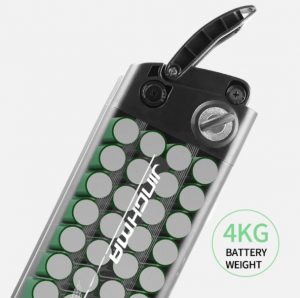 Jinghma R8 has a long-lasting 48v*15Ah / 48V*10Ah Li battery that can meet your riding needs when riding a long-distance bike. The battery supports about 900 charging cycles.
With a 10Ah/ 15Ah battery cell and intelligent ECO system, Jinghma can go up to 80 – 110km under power-saving mode.
The battery can also be taken out. R8 is available for dual charging methods. You can charge directly on the bicycle or can take out the battery to charge at home or office.
3 Working Modes on JINGHMA R8
There are three operating modes available
 Power assist mode: When you step on the pedal, the motor will provide you with moderate power.
 Full electric mode: Rotate the throttle at any power increment to power the bicycle motor.
Manual mode: Pedal the bike normally like any other bike.
Multifunctional Large LCD Display
R8 has a multifunctional large LCD Display. You can check all the important information such as speed, mileage, battery level, ODO while you are driving.
Shimano 7 Speed Transmission
Jinghma R8 is an electric folding bike with a Shimano 7-speed transmission. The ideal gear steps facilitate seamless transitions to perfectly match your terrain and riding style. You can choose different riding speeds and brake easily and safely, especially in wet and slippery conditions.
4.0 inches Fat Tires on JINGHMA R8
With the 20 x 4.0-inch fat tires, which increase the friction of the road by increasing the tire size, anti-slip treads increase the contact area with the ground, R8 can adapt to various road conditions, such as mountains, snow, Roads and beaches. The strong traction and grip of the fat tires allow R8 to ride on bumpy terrain.
Front and Rear Light
With the front and rear LED headlight, Jinghma R8 ensures you can see anything at night. The rear light will automatically activate at any time the brakes are applied.
Double Brake System
With the customized front and rear disc brakes, R8 provides you with strong stopping power and ensures you stop at a dime even in loose terrain. Jingma R8 is an ideal ebike for your travel safety.
Aluminium Alloy Frame
Jinghma R8 is using a lightweight, strong and durable aluminum alloy frame. The alloy double-wall rims offer higher durability, faster driving speed and less resistance.
The frame can be folded, so you can easily fold up the bicycle and store it in the trunk of the car or where you want to store it.
What does the Jinghma R8 kit include?
1x Electric Bike Jinghma R8
1x Removable Battery
1x Security Lock
1x Saddle Bag
1x Rear Carrier
1x Pump
2 x Fenders
1 x Mobile Phone Mount
Order Jinghma R8