Description
Jinghma R6S is an upgraded version of Jinghma R6. With the upgraded motor to a 500W Brushless motor, Jinghma R6S provides more power when going uphill. The introduction of full suspension in both front fork and rear frame enhances the capability of Jinghma R6S to ride through rigid and bumpy terrains like in a flat road. You will feel more comfortable and effortless while riding. Simply enjoy the excitement with Jinghma R6S on the off-road!
20 x 4.0-inch Fat Tires
Equipped with 20 x 4.0 inches fat tires, which can effectively increase friction and can handle any terrain by more contact with the road surface. High-quality anti-slip wear-resistant tires can fit wet stones, muddy trails, beaches or snowy mountains.
3 Driving Modes
Lets you choose between the 3 riding modes: electric mode, manpower mode, and pedal-assist mode.
The Electric Mode: Makes you completely electrify the cruise past crowds
Pedal-assist Mode: Simply amplifies your pedaling efforts.
Manpower Mode: You can use the bike without a battery as a normal bicycle.
Double Shock Absorbers of Jinghma R6S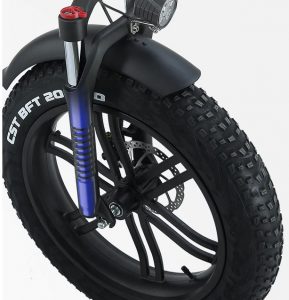 The front and rear double shock absorbers of the e-bike enhance the comfortability of riding in different terrain. It can buffer road vibration effectively. The double suspension of R6S will bring your riding experience to the next level.
Aluminum Alloy Frame
The advanced e-bike adopts an excellent aluminum alloy frame, high toughness, and strong corrosion resistance feature. With the lightweight and efficient design, the Aluminum alloy 20-inch wheel suited to both urban and trail environments.
Upgraded 500W Powerful Brushless Motor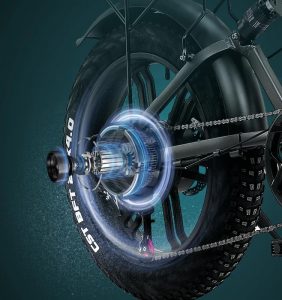 Jinghma R6S had upgraded the motor to 500W high-speed brushless gear motors. With a maximum speed of 40km/h and strong hill-climbing power of 30°, this e-bike is the ideal transportation replacement for your daily use.
High Torque Pedal Sensor on Jinghma R6S
Jinghma R6S is using a high-torque power magnetic sensor to give you quick acceleration. The Magnetic sensor will send a central axis rotation signal to motor smart control, which makes it easy to start up after stops and to tackle all terrains.
Long-Lasting Lithium

Battery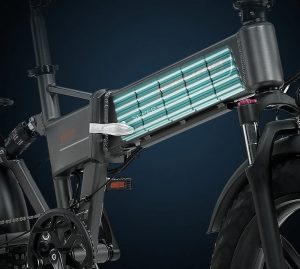 With the option of a 10Ah or 12.8 Ah battery, the battery is hidden inside the frame with a security key lock to ensure the safety of the bike. There are 2 ways of battery charging, you can charge on the bike, or simply remove the battery and charge indoors. The battery capacity is can support your long-distance travel with up to 100km under a power-saving system. This folding bike can be fully charged in 5 to 7 hours. 
Easy to Fold
Collapsible top-tube and frame make the e-bike more portable and easy to store in your car or anywhere you're ready to use. Folding the bike only in 10 seconds.
Multi-function LCD Display on Jinghma R6S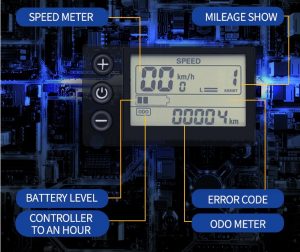 Ebike has a functional LCD multifunctional display to grand different e-bike setting access. You can control your speed settings, enact a cruise mode, change of pedal assistance level, etc. All the important information such as 5 PAS settings, speed, battery level and mileage are shown at a glance while riding.
Double
Mechanical

Disc Brake System

Both the front and back of the Jinghma R6S are equipped with mechanical disc brakes, which have a strong responsive braking force to ensure full control on different surfaces. To ensure your riding safety and braking efficiency, It will automatically cut the power while braking.
Shimano 7 Speed Transmission
Jinghma R6S is using a wide-range Shimano 7-gear shifting to provide expert control on the electric bike. The ideal gear steps facilitate seamless transitions to perfectly match your terrain and riding style.
What does the Jinghma R6S kit include?
1x Electric Bike Jinghma R6S
1x Removable Battery
1x Security Lock
1x Saddle Bag
1x Rear Carrier
1x Pump
2 x Fenders
1 x Mobile Phone Mount
Order Jinghma R6S